CONSCIOUS LIGHT - system of natural healing
Online healing energy program from Beginner to Master
Supporting the hard of hearing  and deaf community​ 
 with visual guided meditations and
subtitles on video instructions 
HEAL YOURSELF
'Guide for Empaths - navigating life
with more ease and grace' 
with techniques, invocations,
personal stories and the
first five visual guided meditations in
'Higher Communications'. 
Clear toxic emotions from the past easing the feelings of anxiety, worry and grief.
Everything you need to 
build your power base.
Sign up above to start your journey FREE
HELP OTHERS HEAL
'Conscious Light - healing energy
program for the beginner' 
with 9 subtitled videos and written instructions with personal stories, techniques and invocations.
Build your energy,
heal emotions by soothing auric fields, deeply, clearing and
carrying away toxic energies.
Everything you need to
begin your healing energy practice.
Sign up above for FREE access
TEACH OTHERS
'Conscious Light - awaken the master within' with advanced healing energy practices, with 8 subtitled videos and written instructions with personal stories, techniques, invocations, 6 swipe files, 12 workshop worksheets and the remaining 12 visual guided meditations in 'Higher Communications'.
Deeply clear, cleanse, heal, seal and energise auric shields and energy centres, creating life changing shifts from trauma of the past.
Everything you need to hold advanced healing energy practices, workshops/retreats and become a Master Healer and Teacher of Conscious Light.
CONSCIOUS LIGHT MASTER CLASS
Introductory offer $97
Conscious Light
When invoking the high level light beings, masters and guides as you do in this work, the light which you call upon is a living entity, a form of consciousness.
When you surround yourself with this light, fill your body, project and radiate it, you include the beautiful qualities it holds.
Qualities of higher purpose, joy, trust, goodwill, oneness, radiance and love.
Are you ready to awaken the master within you?
Forgive and heal trauma from the past.

Clear all negative energies from past relationships.

Inspire others to do the same.
Conscious Light - system of natural healing
Online healing energy program which guides you step by step.
Your first step... BUILD YOUR POWER BASE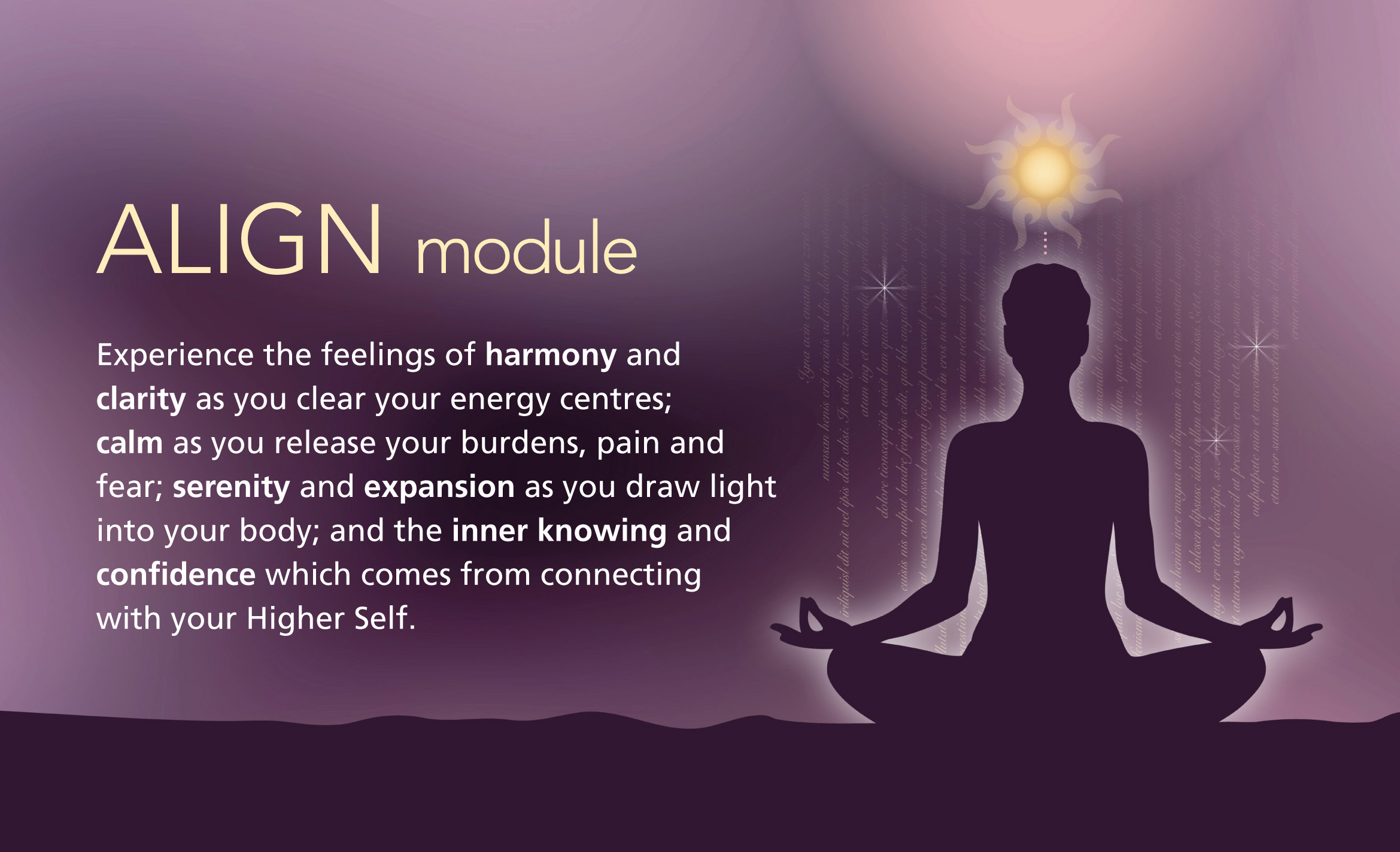 Free when you subscribe above. 
You begin by Aligning your energy centres and connecting with your higher-self with the 5 visual guided meditations in the 'Align' Module of Higher Communications.
Free when you subscribe above.
Strengthen your power base with techniques to clear toxic emotions that are not needed anymore from relationships and ease the feelings of anxiety, worry and grief.
Free when you subscribe above.
Begin your healing energy practice with a friend, the tools, techniques, 9 video instructions, invocations and checklist to make sure you feel confident.
Everything you need to begin your healing energy practice, to either compliment what you are already practicing or use all on it's own.
Your next step... MASTER CLASS
Advanced healing energy practices, including deep clearing, cleansing, healing, sealing and energising of energy centres and auric fields.
Life-changing healing at a very deep level for those having experienced trauma from the past.
Everything you need to hold events on a mass scale at either workshops or retreats for healing on very important subjects needed on earth right now.
This is what you will learn...
 Advanced healing energy techniques and practices
 How to assist your client to let go deeply clearing particular emotions and trauma using colour, hand actions and asking relevant questions.

How to deeply disintigrate and remove all negative elementals, psychic attacks and contaminations from the chakra centres, balancing them and freeing your client of these heavy energetic burdens.

Self-empowering and self-healing techniques to serve yourself and your clients in the highest and best way.
How to confidently hold events, workshops and retreats:
You will be guided every step of the way on how to inspire others how to self-heal in a group environment, in either a casual gathering, workshop or more formal retreat. 

With the help of the 17 visual guided meditations and the 12 Workshop Worksheets already created for you, and 6 suggested Workshop Subjects, the procedures, all the information, the checklist and social media swipe files, you will find it easy to feel confident to create events covering a wide range of important subjects all created for you and needed on earth right now.

These events you offer are an opportunity for your clients to ask themselves the hard questions and answer them in a safe space. It's about allowing the opportunity to see situations from a higher perspective and determine new ways to handle the challenges they face.

With the swipe files to refer to, which includes an image and suggested scripts will help you create your social media event campaign for your workshops or retreats with ease.

You will learn how to confidently offer your services during these group sessions and discover this as a way for people to get to know all about you and the sacred services that you offer.
This is what you will receive...
 Lifetime access
eBook 'CONSCIOUS LIGHT - awaken the master within divided into 6 Parts.  

8  Clear video instructions with accurate subtitles. 

17 visual guided meditations in the Higher Communications program

6 Subjects to hold either a Gathering, Workshop or Retreat with instructions on how to set up, procedures and checklist.

12 Workshop Worksheets on pdf editable format ready to use with links to the success stories of each one.

6 Full day and half day Swipe Files of social media events for Workshops with suggested scripts to help you get started.

Support through a private Facebook group 'Conscious Light - Masters Group' where I'll hop into live on a regular basis addressing any questions and inspiring ideas, plus you can ask for support and chat to fellow members daily.

You will be provided with suggested subjects AND material for events which are so important on earth right now, for example healing grief, easing worry, feeling empowered, improving relationships, contacting your spiritual support group and how to ask for the Universe's help in all you do.

Guidance on the timing, set up, procedures, what you need, and a checklist for your events to ensure you feel confident on the day.

You will have available 17 visual guided meditations and 12 Workshop Worksheets to choose from for your events.
After having experienced and practiced above you qualify as Master of Conscious Light and the next step is to apply for the Master Manual, Certificates and Attunement.
Master class includes the remaining 12 visual guided meditations in Higher Communications with a spiritual growth journey which amplifies your light and inspires you to communicate in higher, intuitive ways.
Master Class $97 
We welcome you to be part of our tribe.
Followed by... CERTIFICATION AND ATTUNEMENT
You can't be whole if you
deny your power.
You deny the world when
you deny your power.
Attunement where you meet your Spiritual Master to receive guidance with your higher purpose.
Master practices to recharge
and amplify your power for
higher purpose.
Certificates for all levels of Conscious Light will be supplied and an offer to become an affiliate to receive a commission as you are now a
Master of Conscious Light and
ready to teach this work.
Attunement and Certification $50 
My first introduction to Robyn's work started when I went to her to experience a Quantum Hypnotherapy session and her ability to put me at ease meant it flowed easily and I felt safe and protected throughout the session. I came away with a better understanding of myself and my responses to certain situations, which I have found life changing.
Subsequently I have received further healings from her, embraced the techniques she offered me and my life has made a change in direction which feels like my true path, I am now a healer, and I feel confident because of the way Robyn has guided me.
Having everything online means I've been able to access the information at a moment's notice. I feel proud that I can from experience, share all the techniques which served me so well when I needed them.
I have since created a healing room in my home which was once a place for storing things I really didn't need. My life has changed and I am so very grateful for this work which has inspired me to listen to my higher and quantum self to make the changes I needed. I am excited about what the future holds and feel passionate about this direction. It makes it easy to know I have the support I need when feeling doubt.
I came to Robyn at first at one of her workshops needing to feel empowered. She has helped me in so many ways. Giving her time, knowledge, sharing her valuable creations with meditations, light body workshops and energy healings with me. I am so much wiser and have grown so much from her in all ways on a personal and soul level. I admire her in all that she is and she does.
She is an inspiration to me and because of what she has introduced to me my life has changed, I am now a practicing healer, a direction which has come as a surprise to me.
Where in the past I had such self-doubt and lacked confidence I have practiced the inner work, speak to the souls of others when I have a challenge and I regularly connect with my higher self. I now have a clear path in front of me and intend fully to become a very powerful healer and teacher of this work.
I'm excited to share this knowledge and support others who need help like I did.
Lifetime access to this program.
 Hop in and out when you need, take it at your own pace, in the comfort of your home.
Feel welcomed by a community as we join together shining our inner light.
Why Meditate?
Meditation promotes both physical and mental well-being and contributes towards positive emotional traits.   Here's what neuroscientists have to say in an overview of their research in 'Meditation and Neuroscience: From Basic Research to Clinical Practice' about the benefits:
Meditation:
nurtures the nervous system

improves the immune system

reduces neuronal decay due to normal aging

promotes psychological well-being 

changes individual's thoughts about and interpretaton of negative emotions

assists with helping dissociative disorders through the development of a mindful attitude
Higher Communications makes meditation easy - just like watching a little video, each under 10 minutes long.
Conscious Light – MASTER CLASS is currently available for half price at $97.00
Are you ready to awaken the master within you?
What do I learn from the 17 Visual Guided Meditations?
In addition to the first five in the Align Module:
 Heal
Releasing past and present life obstacles

How to meet your guide

Meet your sub personalities, and work together to create postive change.

Create forgiveness to free yourself from the draining cord of attachment from issues from the past.
Empower
Change a belief holding you back to one which leads you to where you want to go.

How to project love from different parts of your body - and to all your emotions to uplift them.

How to 'observe' to keep from buying into other peoples drama and recognising their pain body.

Receive support and guidance whe you meet the future five year you, the highest brightest and most radiant you.
Inspire
Awaken the inner healer within you, not only for your healing but also to assist others.

Communicate on a telepathic level, speaking to others from the level of soul.

Expansion of divine light and love, amplifying radiant light outwards to the earth, and all beings.

'I am' Reminding yourself of all that you have become and how much you have grown.
What are the Gathering, Workshop and Retreat subjects?
You will be provided with visual guided meditations and techniques AND all the material you need, including procedures half day and full day timing and checklist to ensure you are confident on the day.  You will be set up to hold these events on the following subjects, however you may find other subjects where you can use the same information in different combinations.  These events are so important on earth right now, for example:
Ease worry 
Allow the universe to help you
Discover your spiritual support
Improve your relationships
Heal grief
Amplify your power by shining your inner light
What are the 12 Editible Workshop Worksheet Subjects?
How to allow help from your Spiritual Guide

7 steps to allow love in your life

Automatic writing process

How to choose love over conflict

How to clear negativity through smudging

How to contact and nurture your inner child

How to create balance with the roles that you play

How to create values so you easily shine your inner light

How to ease worry with the help of divine light

How to feel empowered in difficult situations

How to receive help and support from the universe

How to uplift your thoughts to feel better
Imagine the relief of having lifetime access to all your material, video's with subtitles, articles, eBooks, visual guided meditations, workshop worksheets, and programing, everything available to you always to refer to on your own member page.
Imagine the relief of having likeminded healers to check in with, share your experiences and ask questions.
Imagine observing shifts in others as you see them forgive, surrender, evolve and grow.
Imagine having the confidence to hold group meditation sessions and workshops which inspires and serves your clients in a powerful way.
 

Imagine becoming the master of this work and teach others how they too can be master healers with generous affiliate opportunities when that time comes.
How this came about...
The Quantum Hypnotherapy and Light Body work I now practice has paved the way for this beautiful healing program. Through my Masters, Orin & DaBen and the Great Light Beings I channel, I was clearly guided every step of the way.
At first I was to turn the meditations I had created to be made available for the hard of hearing and deaf. Once that was created, I thought I was finished, but no, they had bigger plans for me, which has now become this beautiful program CONSCIOUS LIGHT - system of natural healing.
I was to be sure the program continued to support the hard of hearing and deaf healers and their community.
We need more healers in the world and I intend fully through this work to help you, should this be your path.  Your confidence and clarity as a Master will inspire deep healings through Conscious Light, assisting others to heal from the trauma of the past and create positive change in their lives. In doing so, you play your part in helping raise the vibration on earth more than you will ever know.
 Love and blessings, Robyn
We welcome you to be part of our tribe.
This is for you if you are:
Keen to expand your current healing modality with further healing techniques and meditations, which includes serving the hard of hearing and deaf.
Hard of hearing or deaf and spiritually minded, you can do this work and be outstanding healers to help your community overcome their emotional challenges and trauma.
Looking at ways to serve your clients by empowering them with the techniques to help them with the inner work needed for the healing they seek.
Wanting to provide opportunities to experience meditations specific to your clients' needs.
Feeling this is your path and appreciate support, guidelines, material and the confidence to hold workshops and group meditation sessions.
This is not for you if you are:
Feeling overwhelmed and would rather focus on healing yourself first.
Please enjoy the free eBooks 'Guide for Empaths – navigating life with more ease and grace' and 'Conscious Light – healing energy program for the beginner' and the blog articles at your own pace.
Note: 
Imagine a set of doors in front of you, with one illuminated with the highest, brightest, most radiant light beyond.  Step into this room and breathe in the light. Let go and surrender to the feeling of peace.
Give yourself permission to take your time and enjoy each step.
Who am I to be teaching this work?
I grew up on a farm and watched as our land became a retreat for those who had suffered trauma (including from war and grief). People were able to come and go as they pleased and were fed and loved.
As a child I listened to the stories by my mother who spoke of our ancestors who bravely hid a family in their home in northern Italy to keep them safe during the first world war. During the depression, my grandparents who were self-sufficient cared for children to assist their families as they had food and love which was both in scarce supply at the time.
These experiences had an impact on me, although growing up I thought this way of life was perfectly normal. My mother's healings were based on nature, and she soothed my scrapes with burnt rag and olive oil and … I mean who doesn't get rid of warts by praying to the moon?! (These work by the way, story for another time.)
Becoming an adult I now realise I lived a privileged life with parents who were master healers and an ancestry of love, compassion and bravery.
Soaking up every word of Spiritual Healing books which the Universe provided in bizarre ways, like strangers stopping me as they passed saying "I think this book is for you." One such experience was when a stranger gave me the first book of Dr Michael Newton's just after my father had passed away, and the subject: "Life between Lives." The timing was incredible.
This led me to now practicing similar work which has become my passion, with the added dimensions of assisting earth bound spirits to find their way home, chatting to entities as if I'm just speaking to the neighbour, and other experiences which if mentioned here I would risk sounding like a real wierdo.
I was also given a book by my dear friend Carol, who simply couldn't get into it and she came to me saying "Robbie, I think this book is for you." This book called 'Personal Power through Awareness' by Sanaya Roman who channels Orin. This book became the very beginning of the most incredible journey of spiritual growth and confidence. Orin is now my Master, and together with DaBen who channels through Duane Packer they have introduced to me among many other teachings, Light Body work which has taken me to high dimensions. These experiences can't be described effectively in this language.
Having practiced energy healings for over 30 years, held workshops, a Master of Reiki, Advanced Pranic Healer, Pranic Psychotherapy, Light Body sponsor, co-founder of Higher Communications and Grand Master of Conscious Light – system of natural healing, I serve to inspire those ready to make an massive impact in amplifying their own power of higher purpose and become Masters of Conscious Light.
Lifetime access to this program.
 Hop in and out when you need, take it at your own pace, in the comfort of your home.
Here's what happens after you say yes...
The payment page will open - click the Paypal check out button.
Enter your Paypal or credit card details and complete your payment!
You will be returned to the registration page where you can create your login.
You'll also receive a welcome email in your inbox (check your spam).
You'll get immediate access to all the content in your member page.
You'll be up and away, helping create healing for those who have experienced trauma in their lives, inspire more healers in this world and contribute towards the shift in raising the vibrations on earth needed right now.
Qualities of higher purpose, joy, trust, goodwill, oneness, radiance and love.