Imagine having a conversation with your Soul 
Hello, and welcome to Activate, my free gift to you, and the first course of three in the Path to Heart Based Power program.
Your Soul is your very best friend.
It is here that you will begin your journey of expanding your intuition and awareness, connecting with your Soul, focussing on self-love, self-care and self-nurturing.
This experience will surprise you… Soul Magic awaits. 
Are you feeling…
… as if prioritising you is somehow a luxury? Or, is your attention so focused on the needs of others that responsibility is getting in the way? Are you feeling guilty at the thought of self-love, and you find yourself with no time or energy left for you?
Self-love is a priority, how else can you possibly function as your highest and best unless you hold yourself in love, support and care.
How would life be different if you could…
… have a conversation with your Soul.
You have the most INCREDIBLE SUPPORT right there for you – at any time.
When you feel overwhelmed, don't know which way to turn, have no idea what your next most important step is… your Soul is your VERY BEST FRIEND.
Your Soul LOVES YOU, knows you, and your situation better than ANYONE IN THE WORLD.
You can do this, it takes little time, and this is how…
… by activating your intuition.
Experience a short meditation to help you let go of pesky thoughts (when you wish to concentrate) and raise your vibration (meaning raise how you feel).

Practice Intuitive Writing (also known as Automatic Writing and Channel Writing), where you consciously ask questions of your Soul, and listen to the answers that come and write them down.

Connect with your inner child, offering support and love when needed, and most importantly invite more fun and play into your life.
Discover what ignites:
your voice, enabling you to speak your truth with confidence, integrity and love;

your body, enabling you to listen to what it needs to feel healthy, love and care for it. Your body can help you with your emotions – and will always speak the truth;

your heart, enabling you to allow love into your life in the most surprising ways;

your peace, enabling you to easily allow moments of gentleness and space, so you are able to recharge to be your best self for others;

your curiosity, acknowledging the things you can easily do in your future which lights you up;

your creativity, so you can put all of the above together to create a life with more love, joy and peace in it.
These easy awareness practices of allowing your Soul to play more a part of your daily life inspires you to enjoy more of what 'lights you up' naturally, help confidently make important decisions.
You are creating the self-care, self-love and self-nurturing which is the perfect foundation in living a heart-centred and heart-powered life.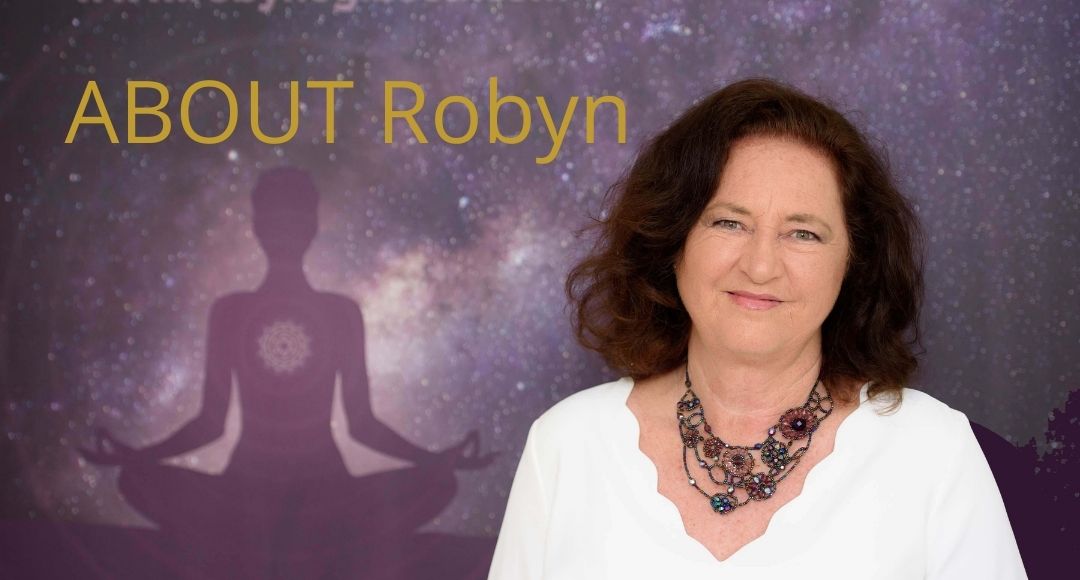 Hi, I'm Robyn
I've had the path of teaching energy healing and emotional health for over 30 years.
As I was experiencing life, and overcoming challenges which caused painful emotions, I would intuitively work out ways to move through them with the help of my guides. In my late 20's, I was told by them, that whenever I have learned something new, I must teach it.
That gave me the confidence to create workshops and invite people to my home, who came to me facing difficulties, and help them too. Some were experiencing serious illnesses and I found my role included helping people pass away with a lighter heart.
I educated myself through many books I was drawn to, by Wayne Dyer, Eckhart Tolle, Neale Donald-Walsch, Sanya Roman and Duane Packer, Esther Hicks, and eventually after thinking I should be officially qualified in something, became a Master of Reiki, learned Pranic Psychotherapy, and will forever be a student of spiritual growth.
I didn't realise there was a name for what I was practicing when I first started, but I was naturally helping people through energy healings, and combining this with hypnotherapy to enabling people to create forgiveness, change beliefs, release burdens, communicate with their Soul, and the Souls of people who they wanted to connect with.
My teachings have always focused on the healing and letting go of the past, come more into the present with an expanded awareness of your intuition, helping you opening up to a future where you live a more heart-centred life.
It truly is Soul Magic.
What people are saying…
… about their experience with Activate.
"I have a greater sense of clarity around next steps and what was important for my self care and well being." Belle Lockerby
"I'm using my higher-self as a resource and request guidance daily." Kerry Pilipovich Dawson
"At first I thought I couldn't do it, but Robyn read out what I had written, saying "imagine if I was the one who wrote that?", somehow I was able to allow those kind words were actually for me. I have developed a much deeper understanding that I am never alone, and that feels really good." Cindy Gielingh Jones  
"It really is such a self-loving and self-caring process, and I now really think about the questions I ask my Soul, where before I wasn't conscious of the help available to me. This has made a huge difference in my life." Christine Bunn
"I now confidently rely more easily on guidance from my intuition and feel so much calmer." Nicki Barnes 
Activate your Intuition – the first of three courses in the
Path to Heart Based Power Program
This is for you if…
… you love the idea of connecting with your Soul in a conscious way
… feel the weight of responsibility and find you are not caring for yourself enough
… you know it's necessary to be your best self for everyone around you.
… it's likely you wouldn't have read this far if this wasn't for you.
This is not for you if…
.. you firmly believe there is no such thing as a Soul, or that Intuition is all made up, but hey… what if you gave it a go anyway, you might just be pleasantly surprised and discover the magic that is available to you too.
Frequently asked questions…
How is this meant to help me?
People say they feel they are never alone any more, they feel supported, and have their higher-self (also known as your Soul) to call on when they have doubts, feel confused, need help and not sure quite what to do next.
They are conscious of what their body needs to feel healthy and nurtured, their connection with their inner child allows them to allow more laughter and fun in their lives.
They are more likely to allow more moments of peace in their lives, and give themselves permission to be creative and play.
What if I have doubts I'm really doing it?
It's so easy to doubt… take it from me who has struggled with doubts forever, and consistently need to attend to them.
This passion has led me to ask myself "what am I really doing?", "Is this for real?", "I don't know what I'm doing!" to "Did that really happen?" to name a few 🙂
I found the best way to handle doubts, is to ask myself "What is my intention?" "Is love my intention?"
If love is your intention – you can never go wrong.
So just write, write, write, write anyway… let out the emotions you are feeling by taking them out of your heart and onto the page as words. It doesn't matter if it doesn't make sense, just do it anyway.
Practice, practice, practice, and if the answers feel good to your heart, then you are honestly connected to the higher part of you.
You can do this! I know you can.
Is this all I need to do?
Absolutely, when you connect with your Soul, my guides have explained to me that this is the most important lesson you can teach another.
So, I offer that for free.
Should you feel there are layers of emotional pain from the past still in your body, the Path to Heart Based Power will help you will peeling those layers away, so you feel at peace in your heart, and ready to live a life with a new way of being. One with more love, peace and joy in it.