Love and honor yourself first!
Have you had a thirst for spiritual growth and a desire to inspire those around you in an uplifting and healing way?
You must first be powerful and to do this, your connection to your higher intuitive self, the blending of your inner child and igniting your body, heart, voice, peace, curiositiy and creativity are important and you will achieve these and more in this article.
Those of you who have activated your intuition will have the most power to amplify their light and take action to help with the rising of the vibration on earth right now.
Earth is changing from a 3D to 5D existence – what does that mean?
There will be an up-leveling of consciousness for all humanity. A baseline of love, unity, and freedom.
Intuition plays a greater role in our lives.
You will recognize the snippets of 5D in your life when you allow the feelings of peace, unity, freedom and love. Your intuition is becoming stronger and you will recognise the coincidences in your life are inspired by the spiritual support you have around you.

Reflection Point:
There is a false premise that if you are not spiritual you will not take part, as if you are going to be left behind in some way – but hold onto your hats because it's everyone coming on this ride.
No one misses out, however it may be your role to shine your gorgeous light bright to help others along the way.
How to recognise the shadow work needed to return to your power.
When you feel yourself struggling with anxiety, grief, and have a constistent loop of thought processes of anxiety, blame and judgement of others – there is work to be done.
You need to love yourself to powerful.
Take a bath and throw and handful of salt in there to remove the emotional heaviness you feel, go into nature and focus on your breath, watch the insects, look for birds, do whatever it takes to bring you back to the feeling of peace inside.
There may be shadow work which needs to be done, like creating forgiveness, changing beliefs, healing emotional programs which have stopped you from feeling peaceful inside. Seek the help you feel magnitised to, to heal your heart to Powerful.
The 'Path to Heart Based Power' online courses on this website are an avenue you may wish to investigate. Listen to your body and higher self to decide if these courses feel right to you, in the meantime, 'Activate your Intuition' is the first online course and it's free, so you may wish to dip your toes in the water and experience 'Activate' before making your decision.
Either way, this initial course inspires the perfect self-care, self-love, self-nourishment and self-awareness habits which are the perfect foundation for any form of growth you choose in your life.
It's outlined in more detail at the end of this article.

Reflection Point:
Situations are going to happen which need to surface in order to be healed – the discomfort will test you.
If you sense yourself feeling anger, rage or fear and have a judgement of what is right and wrong, recognise this is adding fuel to the situation.
It is our job as lightworkers and sensitives to amplify our light and love towards these situations instead of avoiding them for fear of how the information makes us feel.
How to be ready – what to do
If you have read this far… this is likely to be what you have been groomed for, most of your life to do… however your priority is to love and look after you, so you are able to release the fears and barriers which surface and allow courage and love to be fully present in your body before taking action.
Uplift your beliefs, create forgiveness and heal your emotional programs.
How you respond to situations has a huge effect on those around you. You are powerful, so it's time to love yourself into your power so you are an uplifting influence on others.
Your influence on others is important. When you feel the discomfort – you are the magic wand which can turn your discomfort into power.
When you feel those painful feelings, breathe, amplify your light, and surround the situation with light. Imagine your light is a magic wand. Cast a prayer, an intention of healing, love, peace, freedom and unity and when you are struggling yourself, ask your higher self "What can I do to support my intention of feeling peace and harmony in my heart?"
When you use your intution and connect with your high intuitive self you are co-creating and your intention and light is more powerful than you know.
My Guides explain: "We in the higher planes see the changes which are taking place, we can see how each and every one of you is making a difference by shining your light."

Activate your Intuition
Every inspirational leader began their journey by activating their intuition and listening to their very own high intuitive selves.
You can activate your intuition too – it's easy and life changing. You can activate your intuition for free in the online course called 'Activate your Intuition' on this website.
In 'Activate your Intuition' you will discover how intuitive writing is a simple practice and allows you to receive guidance and answers to your questions from a higher perspective. You will also:-
Blend with your inner child – to allow more fun in your life,

Ignite your voice – to inspire you to express yourself in a loving way,

Ignite your body – to listen to its wisdom and give it the support and self care it needs,

Ignite your heart – to learn how to soothe your emotions and discover how to place love in the way you respond to challenging conversations and situations,

Ignite your peace – so you step out into the world each day in a vibration which allows more good things into your life,

Ignite your curiosity – to discover the things you may wish to investigate in the future which makes your heart sing,

Ignite your creativity – to inspire you to allow those creative juices to flow and give yourself the gift of time to put into place more of what makes your heart sing into your life.
This is the greatest act of love to yourself and when you do, the magic begins.
It is my intention through all aspects of my work to make an empowering difference in people's lives. I hope to have helped you too.
I send you all my love,
Robyn
Transformation Teacher|Quantum Hypnotherapist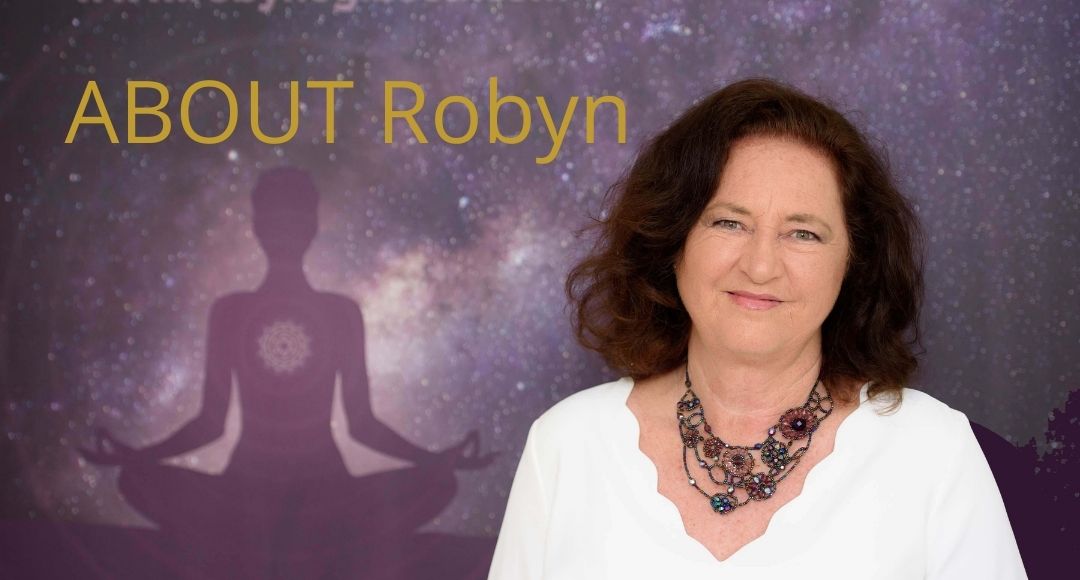 I love helping create confidence in those seeking personal spiritual connections.
If this is you, the free online course 'Activate your Intuition' is your very first step, and it's easy to do.